Doug Jones - Ceramic Artist

Here is a brief selection of my work. The sea turtle bowls and sculpture are especially popular and each is a hand made one-of-a-kind. All of the functional pieces are High fired Stoneware and are safe in the micro-wave and dishwasher. They may be used in the oven with CAUTION (bring them up to temp. with the oven). I attempt to keep a limited color palette in order for repeat customers to maintain a similar look. However, variations in firing will create an a range of colors which makes the piece that much more unique.
Please find a Gallery near you to purchase my work. If they do not have what you want, they can order it or you may order from this Web Site by contacting me and describing the items you wish to purchase. Shipping and Handling charges will be applied (actual cost) to each order. Custom Orders require a 20% deposit.
(Use Arrow Button to see additional Photos)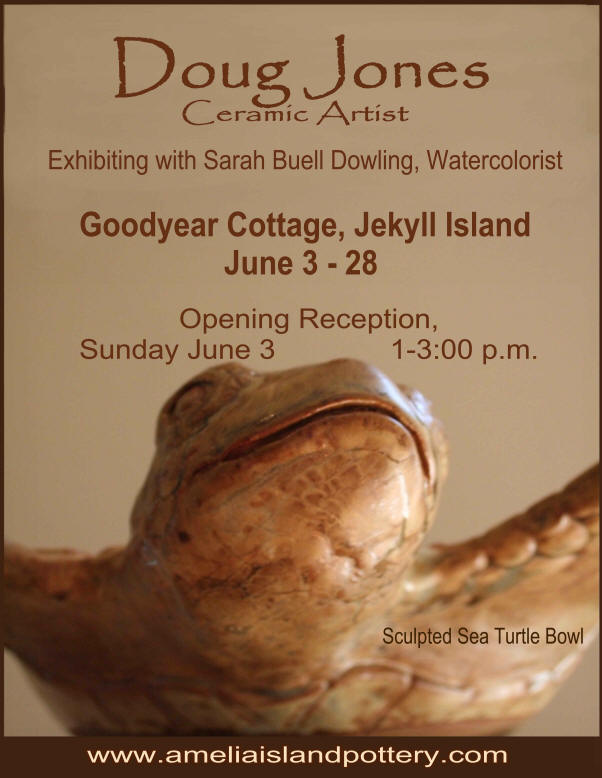 Flyer for Goodyear Cottage Exhibit
Exhibit thru June 28, 2007
Artist Opening Reception - Sunday,
June 3, from 1-3:00 PM
Home | New Studio | About Us | Photo Gallery | Gallery Locations | Show Schedule | Contact Us
This site was last updated 08/06/08